Paint the Town Red is a collaborative comic between J Kiakas and Tasha Mukanik. It follows the lives of several monsters, be they werewolves, vampires or demons, in the town of Merlot.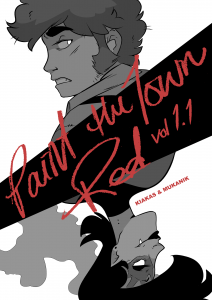 The series is to begin with volume 1, which will be broken into 3 parts. Volume 1.1 is currently in production and will launch on Kickstarter this Valentine's day. This volume introduces Winona, "Winny", a fairly new werewolf coming to grips with her new life, who runs a shelter for werewolves with her friend, Odile. In the midst of past turmoils bubbling to the surface, Winny is faced with suddenly caring for a vampire, Victoria or "Vic", who stumbles through her door.
The aim of Paint the Town Red was always to have a cast of queer characters, with a focus on femme/nonbinary. So yes, there will be lots of smooching, probably.
The comic is created as a collaboration–many of the characters were created by either of the creators. The comic is scripted, thumbnailed and inked by J, and sketched and shaded by Tasha. You can find more of J and Tasha's work on their site for Windy & Wallflower: windywallflower.com